The Winter Wedding Trends You Must See!
While Spring and Summer are traditionally the favourite times to wed, Winter weddings are becoming the newest wedding craze, and we couldn't be more thrilled! Not only does Winter bring cooler temperatures and more freedom to show off your unique bridal style, marrying off-peak is also significantly more affordable than sweltering away in the warmer months. Forget spaghetti straps and those bare feet bridal antics, Winter is the perfect time to put on your dancing shoes, throw on a faux fur and sip Espresso Martinis at a wedding! There is nothing (I repeat - nothing!) more romantic than marrying the love of your life in front of a sparkling winter wonderland backdrop. Envision rich seasonal colours, romantic candlelight, crystals, lush soft textures and a fabulous summer European honeymoon… who says you can't have your cake and eat it too?
Keep scrolling to see our 'how to guide' for the perfect winter event...


When we think of winter weddings, we imagine crisp ivory tones, smooth lines and delicate sleeves. It has become synonymous with a luxe ice queen; a touch of drama in the snow. There are a number of winter-fused bridal fashion trends appearing this year to ensure you exude elegance in your winter wedding dress. These gorgeous long sleeve bridal gowns are perfect for when the breeze sweeps in and the temperature turns down a notch or four. The perfect winter wedding dress evokes a sense of subtlety and elegance, whilst remaining cool, calm and collected. If luxe, lacey sleeves aren't your thing, mock necklines are a bridal trend we are seriously loving. Traditional bridal silhouettes, necklines, and details have been making a real comeback in recent seasons and Winter 2020 is no exception. Whether your vibe is dramatic, romantic, or downtown-girl chic, we are all about the faux covering, and the Victorian inspired bridal look produced.
Check out our top picks for your OC winter wedding gown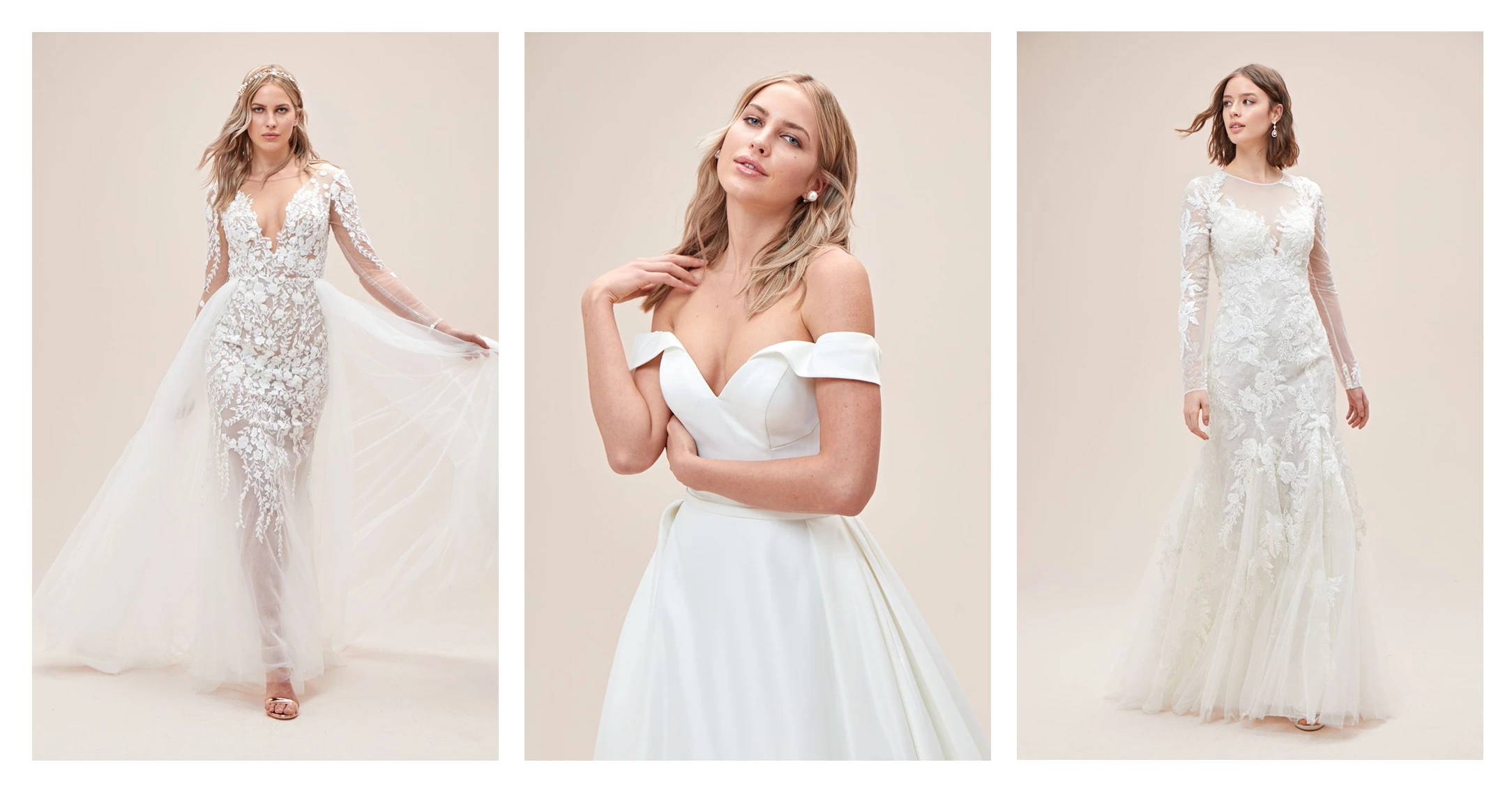 ---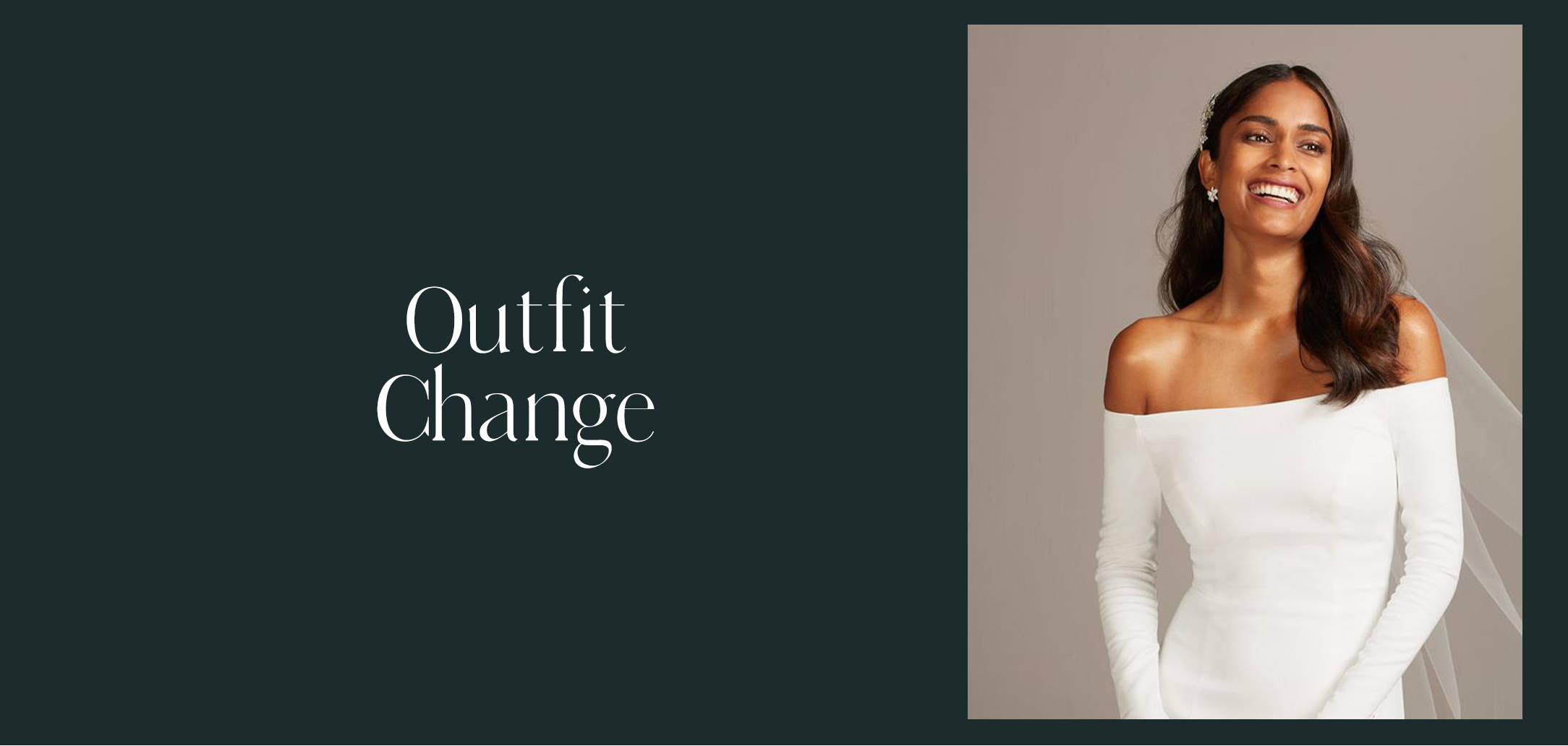 Winter brides are daring, loving and fabulous; show that in your gown! Once you move to a warmer reception area, show off your bridal style with a second dress. Multiple wedding dresses aren't a hip new idea thought up by a bunch of bored millennials, the concept of the 'going away dress' was actually made popular in the mid-century. Luckily for us, they've made a resurgence in the past few years thanks to the practical bride who wants easy movement to mingle with her guests and move freely on the dance floor without being restricted by heavy layers of lace or long sleeves. For your second dress, think low backs, intricate lace patterns and slinky silhouettes.

While some brides may be tempted to juxtapose the day by adding loud, warm colours, we suggest leaning into the icy tones of the season. Muted tones create a sense of luxury, sophistication and elegance for the day. Add a minimalistic feel by softening the colours and boost the winter wonderland feel.
Our OC colour recommendation: Dusty blue, dusty sage, ballet, mystic, graphite, ivory.


If you are a winter bride-to-be you'll need to be ready to work closely with your florist as they will have the best knowledge about what is in season, affordable and of course still strikingly beautiful. Even if you have dreamed of peonies featuring in your big day, sometimes the weather and seasonal pattern has other ideas - and that's okay. You may need to be prepared to break up with the fantasies you've had since you were a little girl and instead lean into the gorgeous floral produce that the winter weather inspires. Winter minimalism can be perfectly incorporated into the floral arrangements on your big day. Think all white bouquets, muted tones, dramatic arrangements. Dusty colours are the way to introduce colour into your wedding without undoing the wonderland feel.
A cute alternative to the traditional wedding flowers, as well as a way to enhance a floral composition, is a branch of berries. We are loving seeing our brides feature a bunch of red berries to add a pop of colour to their winter weddings as they help to make really great accents opposite a white gown and white snow. Another unique idea is to incorporate the use of artificial ones? Bouquets of artificial flowers don't spoil no matter how harsh weather conditions are and they definitely won't fall apart when being tossed to all the single ladies!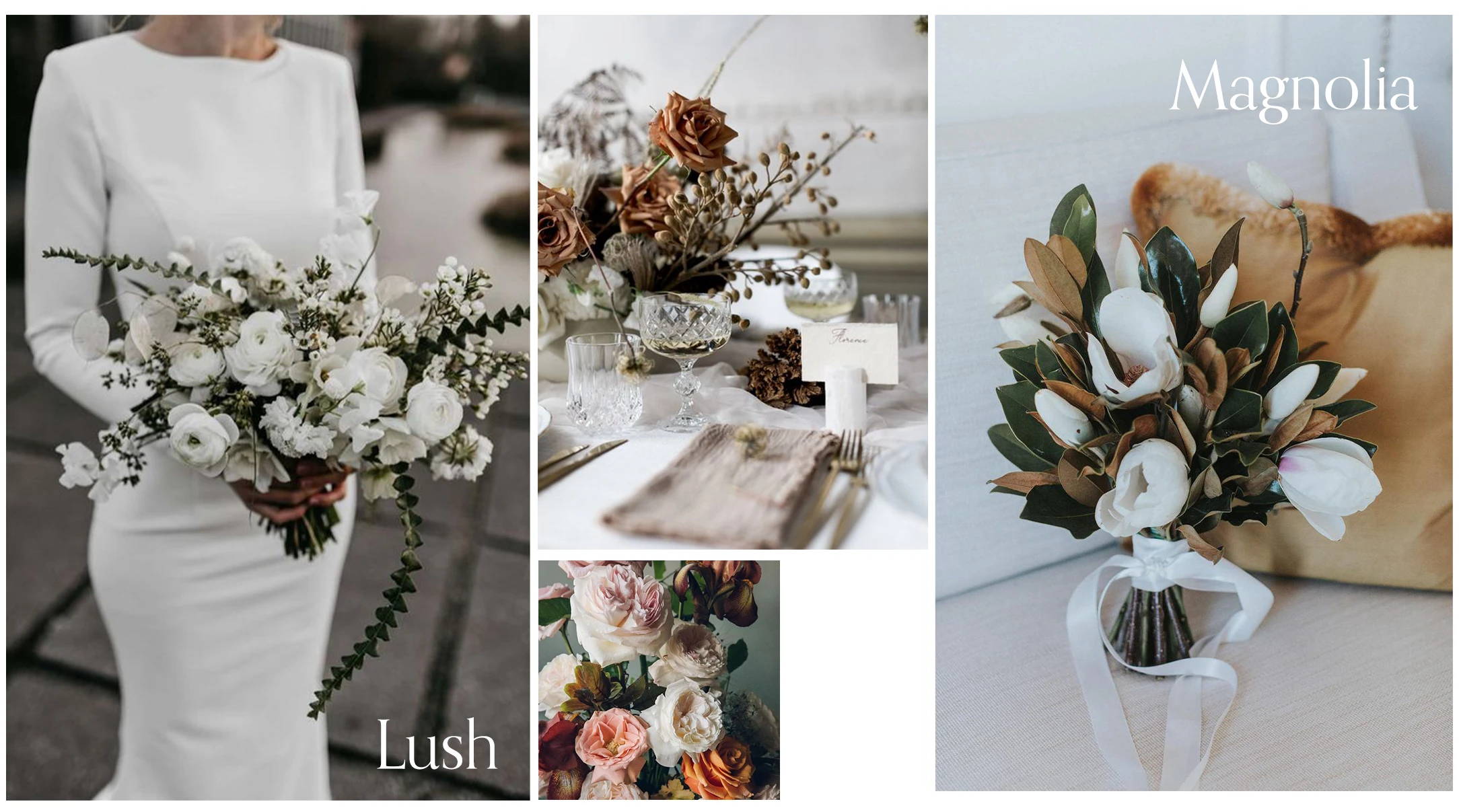 Having a bridal party is one tradition that will never die, but the question of how to dress them has (thankfully) evolved. The Oleg Cassini bridesmaids range focuses on showcasing each of your bridesmaid's personalities rather than forcing them to wear a pastel uniform. We love the mix and match styles, contrasting (or complementing) colour palettes, and alternate necklines. Having these options (and being on trend) makes the task of keeping your closest friends happy on the day just that little bit easier. Depending on your choice of venue, bridesmaids may need extra coverage to keep warm and stylish on the big day. Bridal party colours are the biggest element of the colour theme, so gowns in dusty blue, green, silver, or grey keep the colour theme on point. For our more daring brides, try an all-white colour theme to achieve utter elegance.
Check out some of our OC bridesmaids gowns that would complete your big day:

There is just something special about a winter wedding! I'm not sure if it's those romantic candlelit venues or the sound of a crackling fire as it burns. It may even be the thought of a hot mulled wine or a hearty meal at the end of the day. Maybe it's a combination of all the above! Either way, you'll only get these cozy feels with a winter wedding. The ceremony venue possibilities are endless; gardens, white barns, chapels. As warmer months are typically the favoured wedding season, there is increased availability and even discounts available for the most gorgeous venues. Not having to compromise on your big dayand tying the knot in your dream venue for a fraction of the price sounds like heaven to us!
While winter weddings are one of our favourite trends, freezing cold guests are not. Ditch the outdoor ceremony for a warm indoor venue. Loved ones will be free to mingle and enjoy, and everyone can show off their outfit without a big coat. Maximise the cosy feel by using candlelight, wonderland vibes, and a big dance floor for your guests.
---
---
---

If you ask us to practice what we preach we would say why didn't you ask sooner?! Some of our beautiful OC brides have given us major wedding envy, styling their way flawlessly down the aisle in true winter style and we couldn't be more proud! These brides channeled winter elegance and served swoon-worthy winter vibes on their big day.
Check out our stunning real OC brides on their big day