Real Bride: Elyse & Lachlan
Long time loves, Elyse and Lachlan, finally married in January of this year at the ever-stunning Melbourne Museum and St Andrews Conservatory, in Fitzroy. After 11 years together, four cancellations, and an immeasurable amount of resilience, the couple had their moment surrounded by their closest friends, family and loved ones. Keep reading to hear all about their gorgeous big day, we couldn't imagine anyone who deserved it more.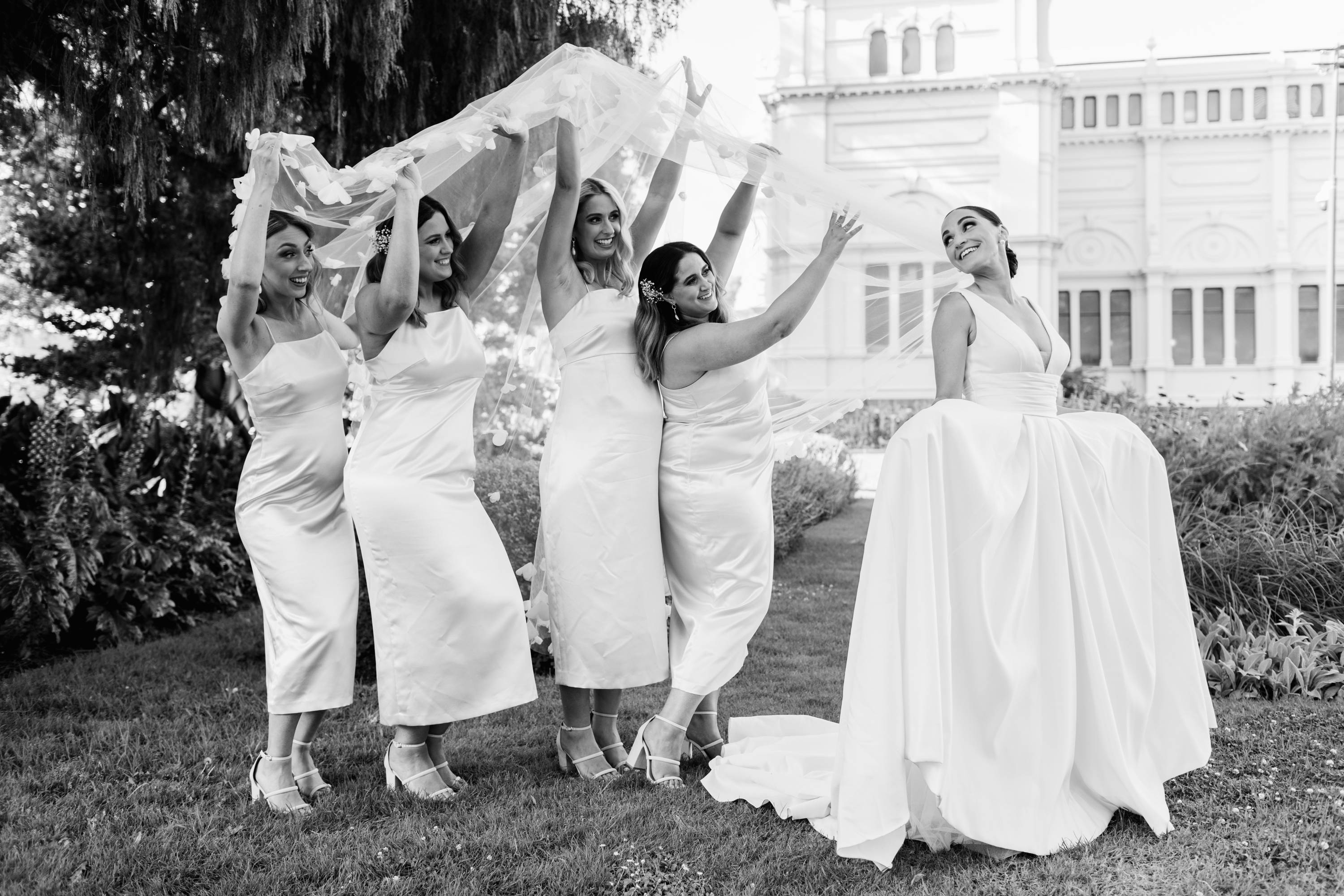 Photographer: Love and Other Photography
---
---
---
"Lachlan and I started dating 11 years ago, this coming May. We met through friends at our local pub, the Lower Plenty Hotel. An amazing 8 years later, Lachlan asked the important question I had been waiting for, he proposed to me. We went to the Fairfield Boat House and were rowing up the river when we stopped to have a rest under a tree, because it was a 38 degree day."
"Next thing I know, Lachlan was on one knee proposing - in the boat! First time ever I had been speechless... Of course I said YES!"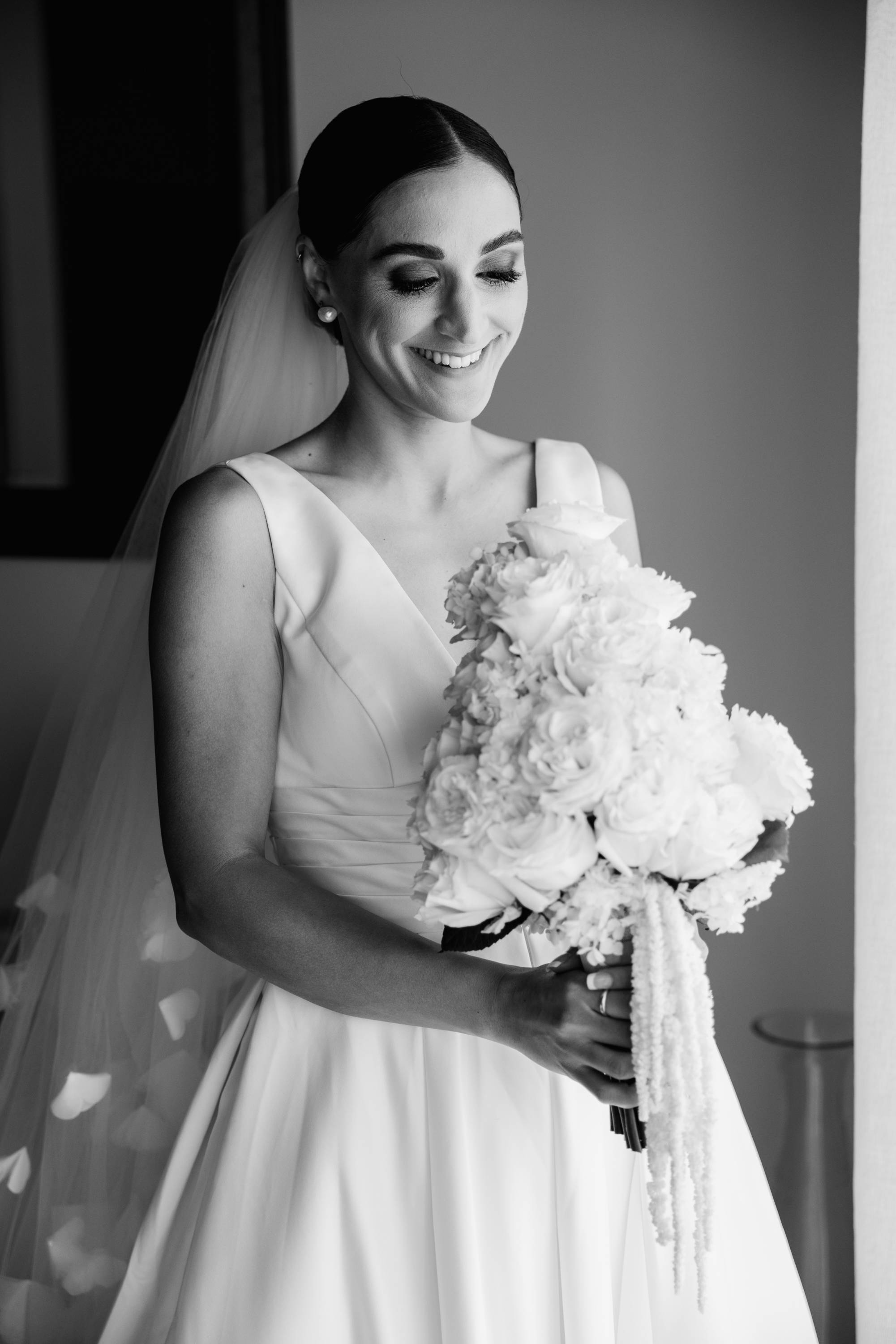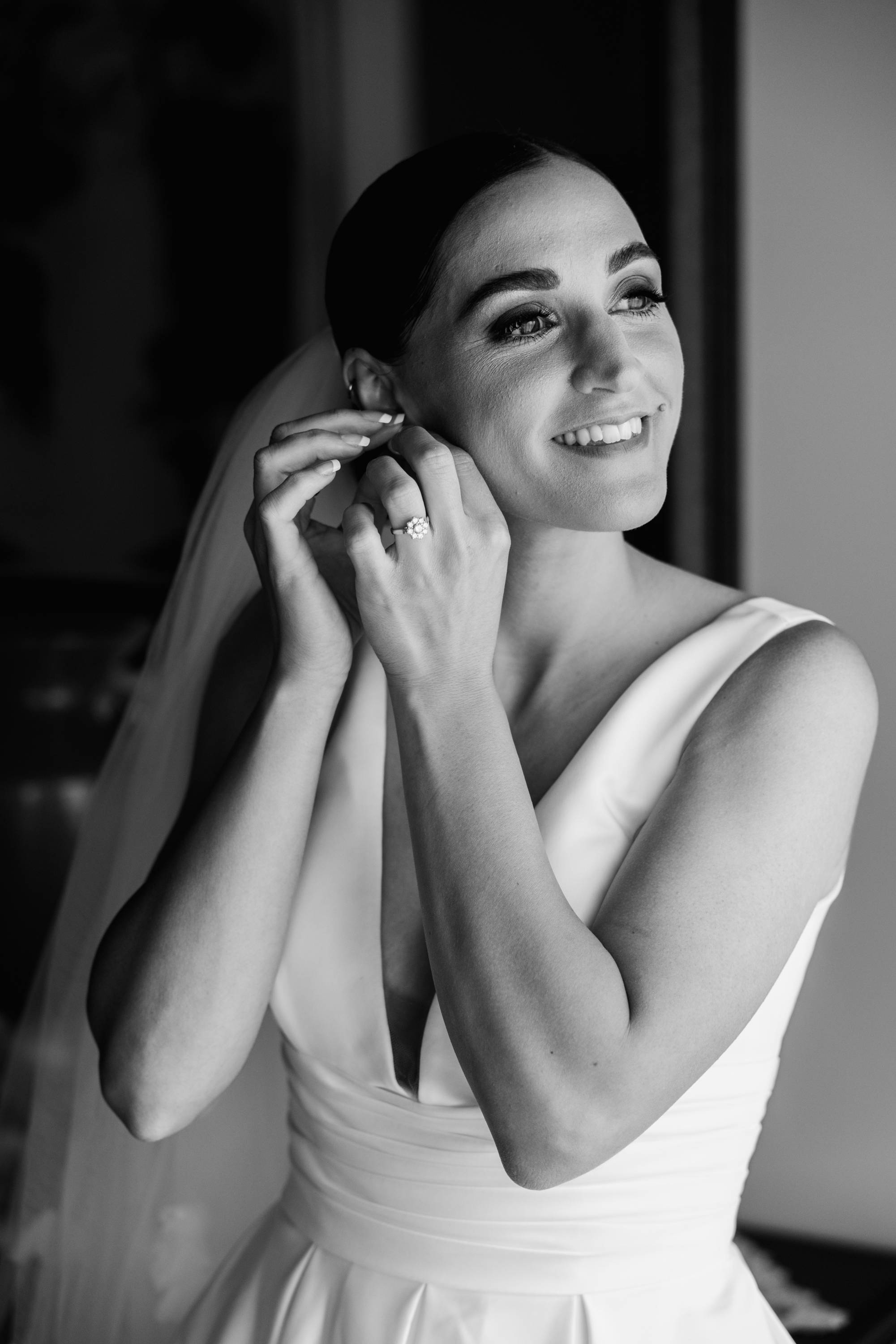 ---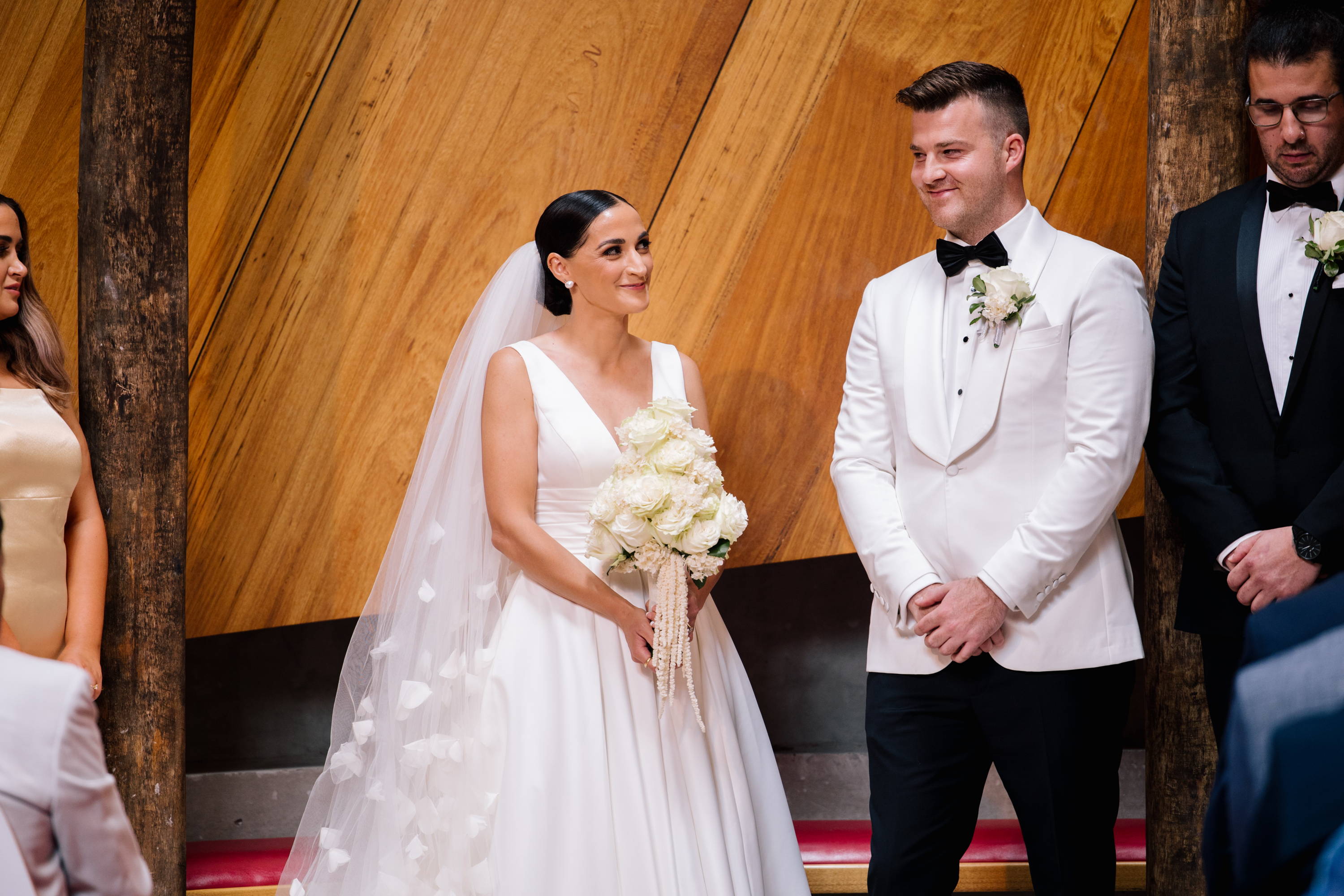 ---
Photographer: Love and Other Photography
---
---
"Wedding dress shopping was such a fun experience for me. I always had a vision in my head of what I wanted my wedding dress to look like. It was actually the opposite of what my usual style is, which can be a little unique and edgy at times. We did two days of dress shopping. The first day, I took my mum, my sister and maid of honour Jacynta, my Nonna, and my mother in law. On the second day, I just took my mum and that's when we went into the Oleg Cassini showroom in Carlton, Melbourne. I tried on a few dresses, but when I tried on the Amanda dress and and saw my mum's face, I knew it was the ONE. It fit me perfectly and I felt amazing in it. I think what won me over also was that it had pockets, which came in handy on my wedding day. I whipped my phone out during our ceremony and read my vows from my notes because I hadn't had time to write them down on paper - much to everyone's laughter."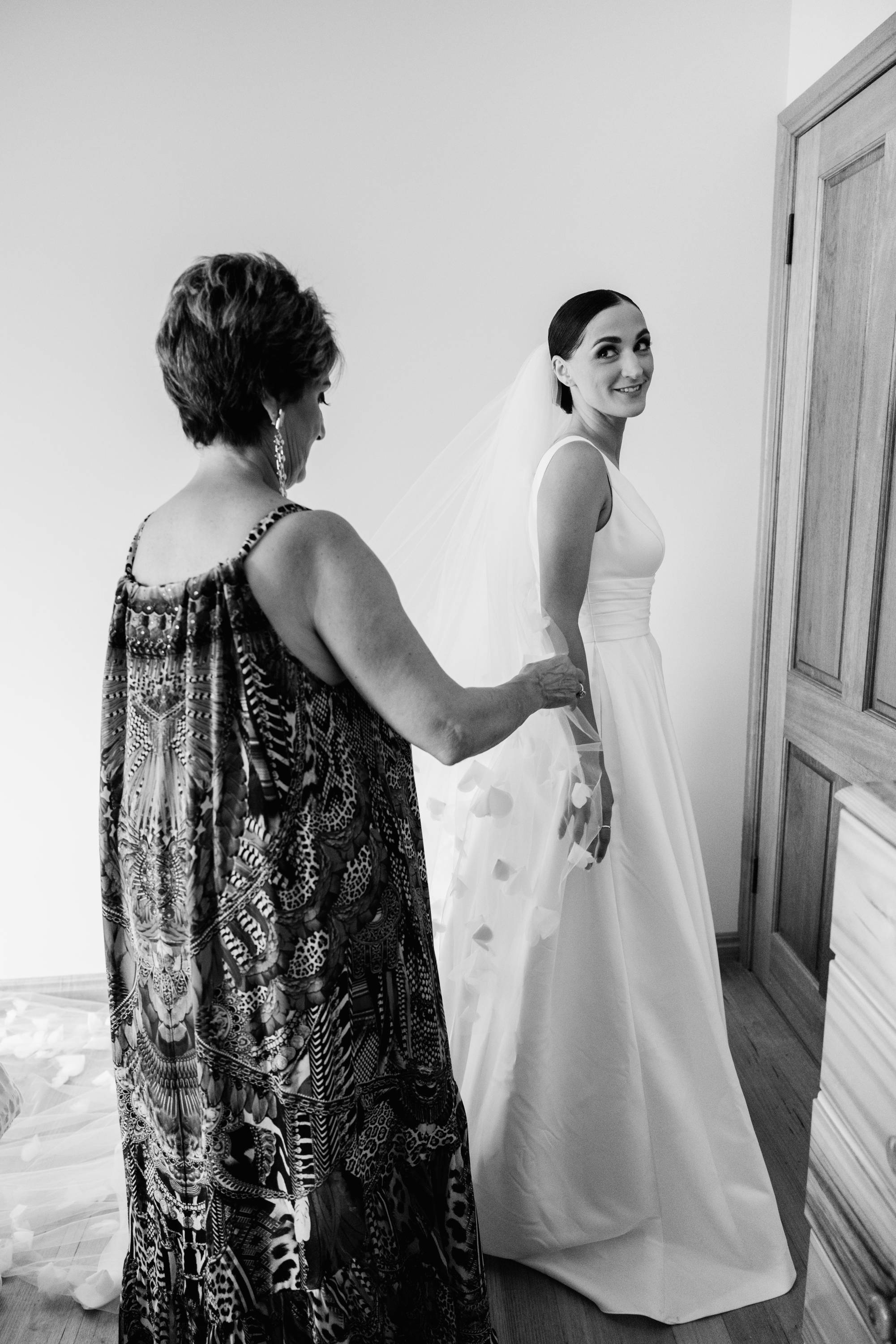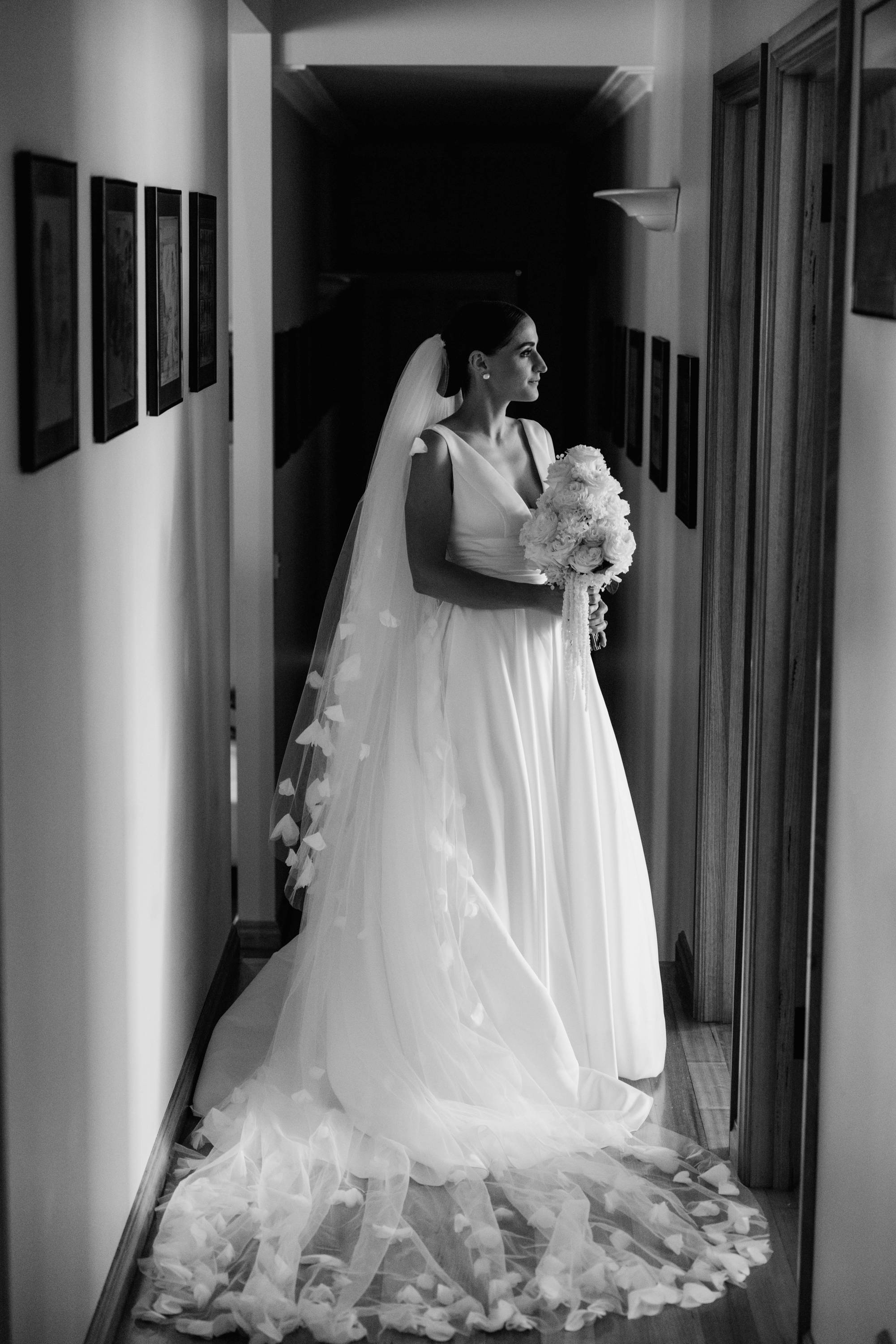 "I went home after trying the dress on just to think, but I seriously couldn't stop thinking about the Amanda dress. It was everything I had wanted! The next weekend I went back this time with Mum and Jacynta, and I tried the dress on with the Freesia veil. As soon as I saw them both together, I fell in love even more. Its as if that dress and veil were made for each other. I was walking around the showroom feeling amazing and then the lovely stylist played my aisle song and I had tears in my eyes. I just had to have this dress and veil. I actually ended up buying 2 veils and I made one shorter so i could have a front veil and back veil."
---
---
---
---
"Unfortunately, my beautiful dress and veil had to sit in the garment bags for two years, as our wedding was postponed because of covid not once, not twice - but four times. We ended up legally getting married in Feb 2021, after our 3rd attempt, with just immediate family but Lachlan and I held out hope for our original dream wedding. As we waited, plenty tears were shed on my behalf and Lachlan was an amazing support during this time and I just grew to love him even more. We stayed positive that this wedding would go ahead because I had a beautiful dress waiting for me to wear her."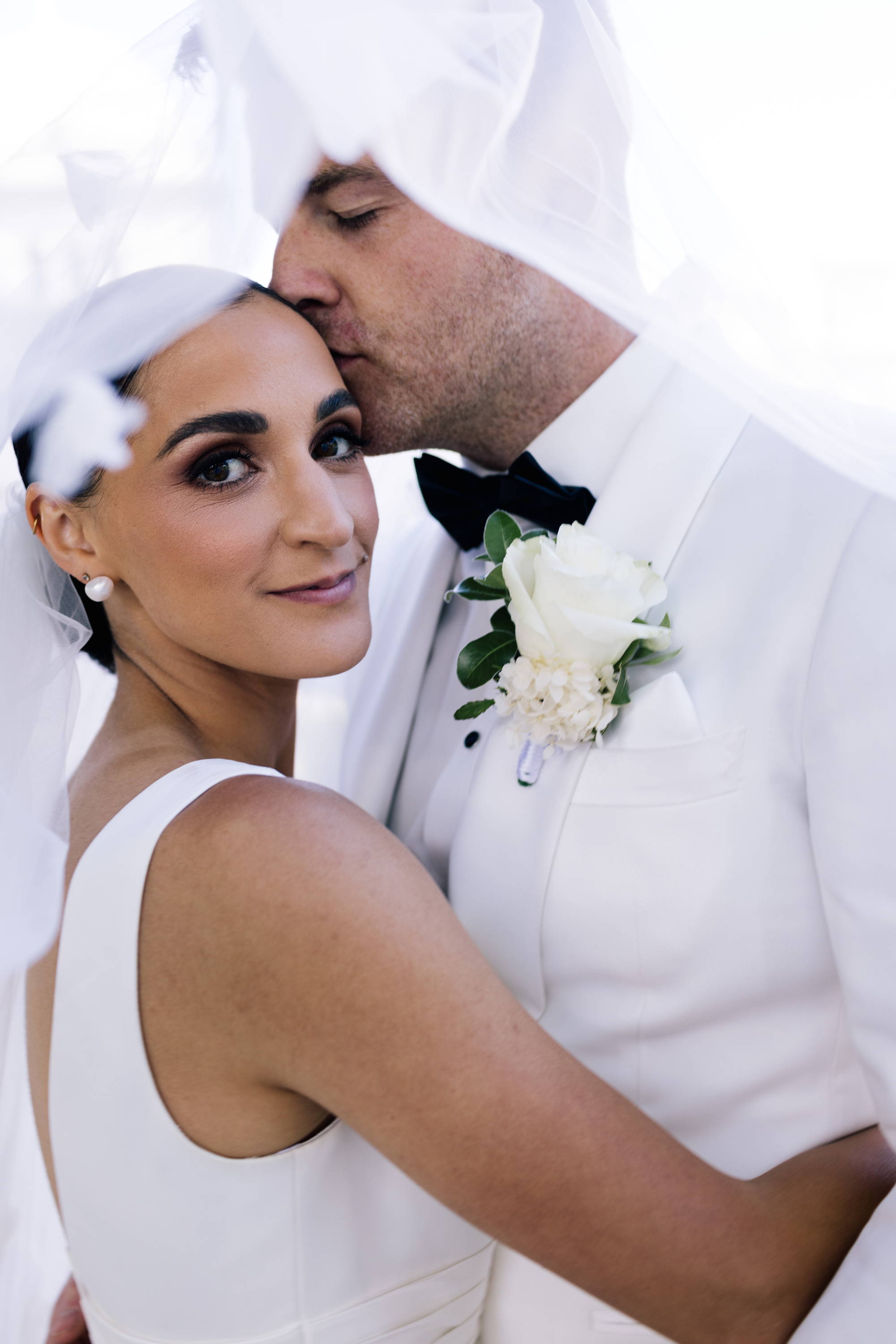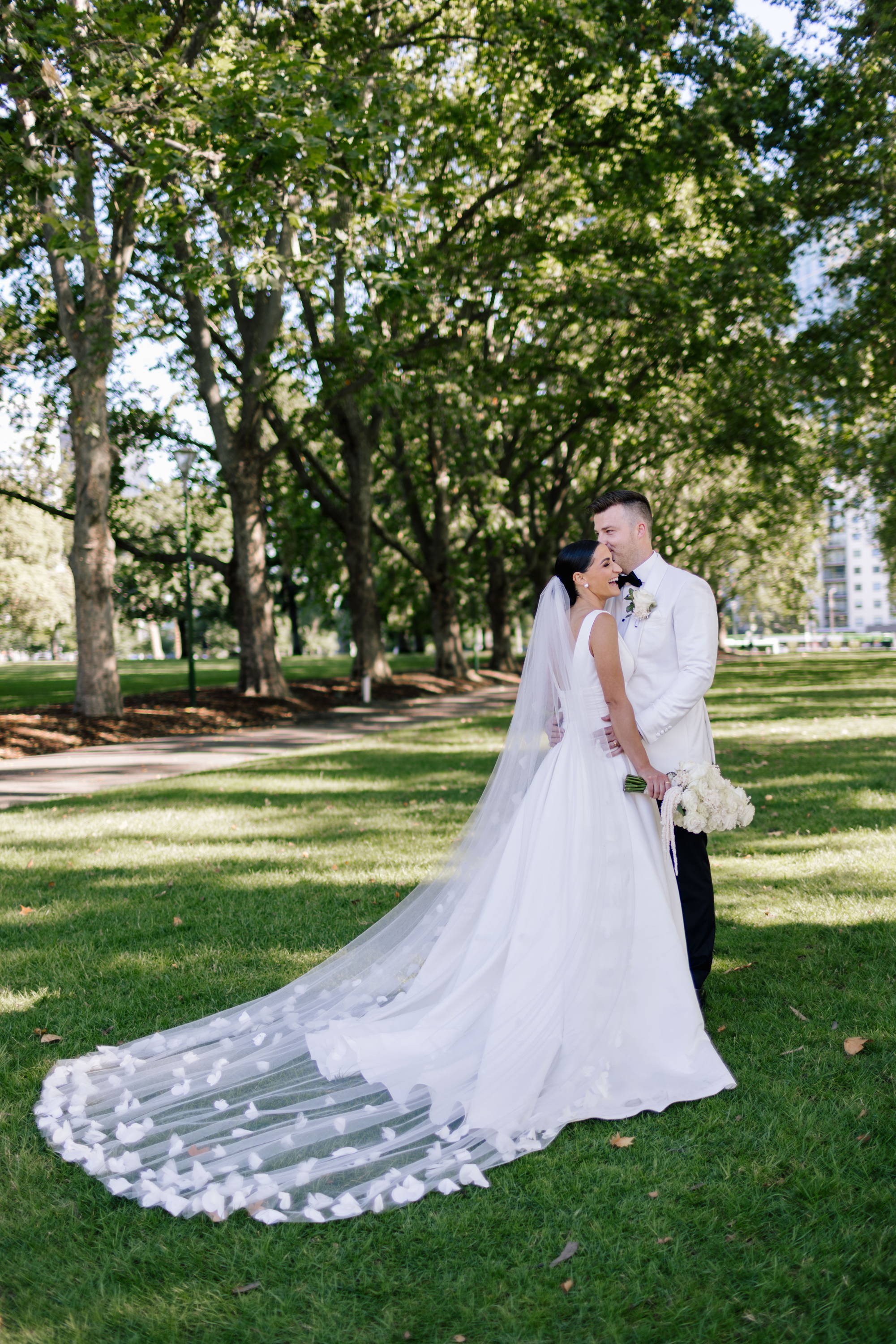 "On January 8th 2022, all our prayers had been answered and we finally had the wedding of our dreams. We had our ceremony in the Kalaya room located at the Melbourne Museum. Our reception was held at St Andrews Conservatory in Fitzroy. I cannot recommend this venue enough, the food was amazing, the venue is stunning to look at and the staff were incredible to deal with. Throughout two years and all the changing of dates, they made it effortless and were so accommodating. Our wedding was truly a mixture of both mine and Lachlan's personalities and we both had the best time ever and wouldn't change a thing.. except maybe two years of cancellations!"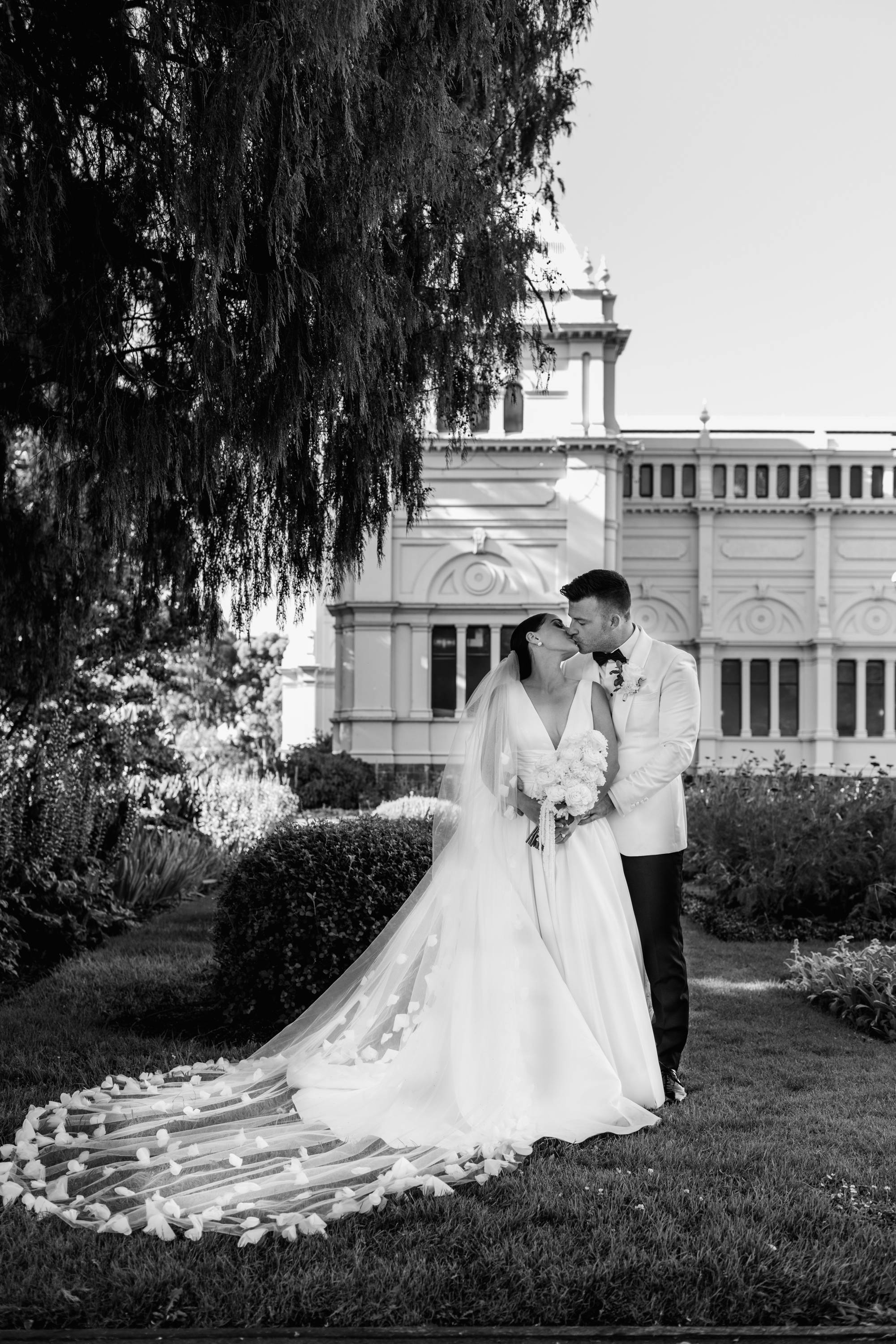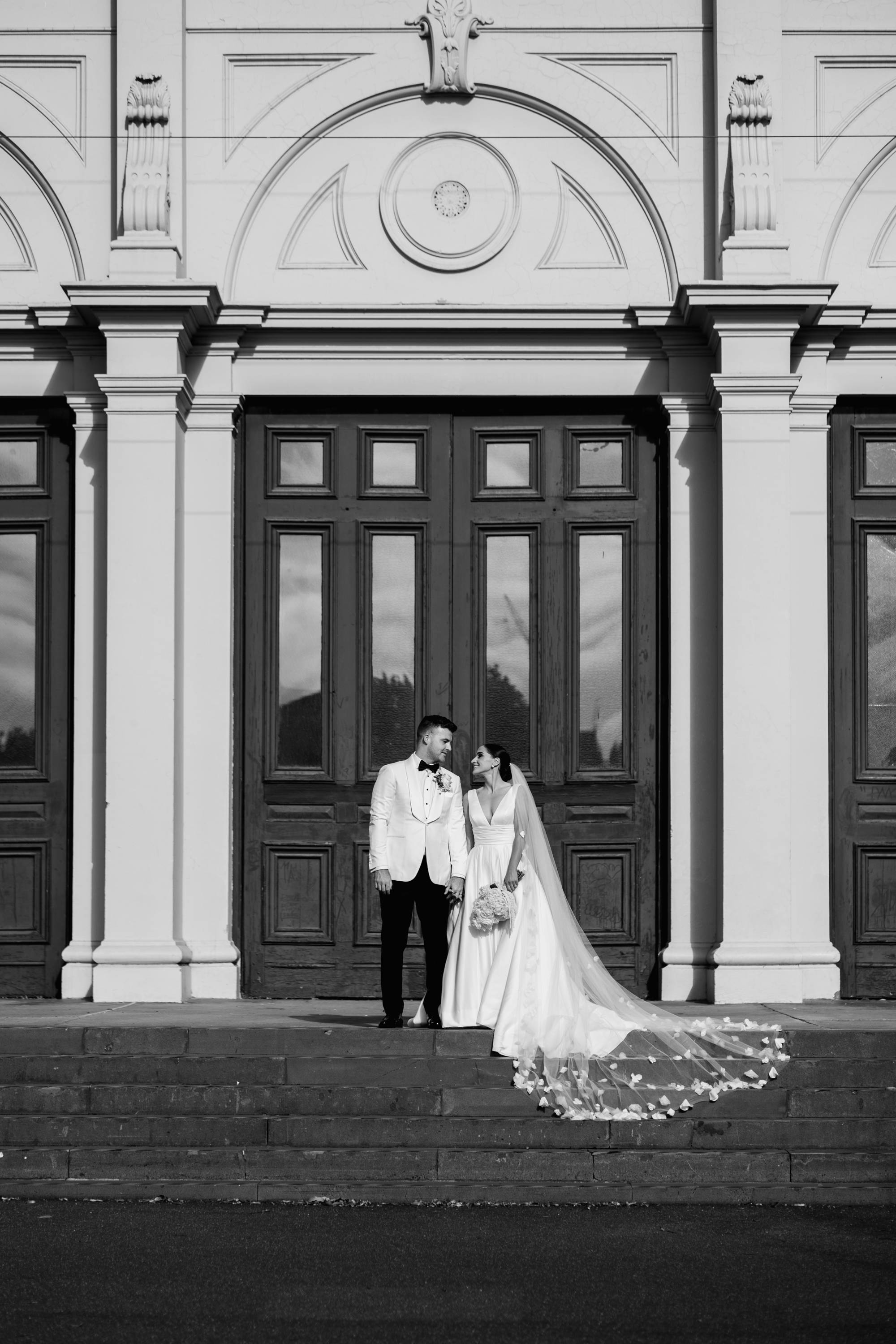 "I felt amazing in my dress and still loved it even after two years. Everyone on the night asked where I had gotten my dress from. Even though it wasn't what they had pictured me in, they all said that it was as if the dress was made for me. I seriously felt like a princess. I wore stud pearl earrings and no other jewellery besides my rings as I didn't want to take away from the dress and veil."
"The amazing Amanda from @hairbyamandaaudry did my hair and it was perfect. I chose a slick back low bun, very simple and elegant to match my dress. Jaimie Lee (@jaimielee_makeup) did my makeup and she did a beautiful job. I asked for soft subtle tones and she delivered. I would highly recommend both these amazing lovely ladies."  
Photographer: Love and Other Photography
---
---
When we asked Elyse for advice for future brides, her word was concise, positive and logical, just like her:
"My advice to brides trying to find their dream dress would be not to put too much pressure on yourself. Try on heaps of dresses, even dresses you usually wouldn't think would suit you because you will surprise yourself. Make it a fun day and take people dress shopping who are positive and make you happy - really enjoy the experience. Lastly, make sure Oleg Cassini is your first stop in trying to find your dream dress."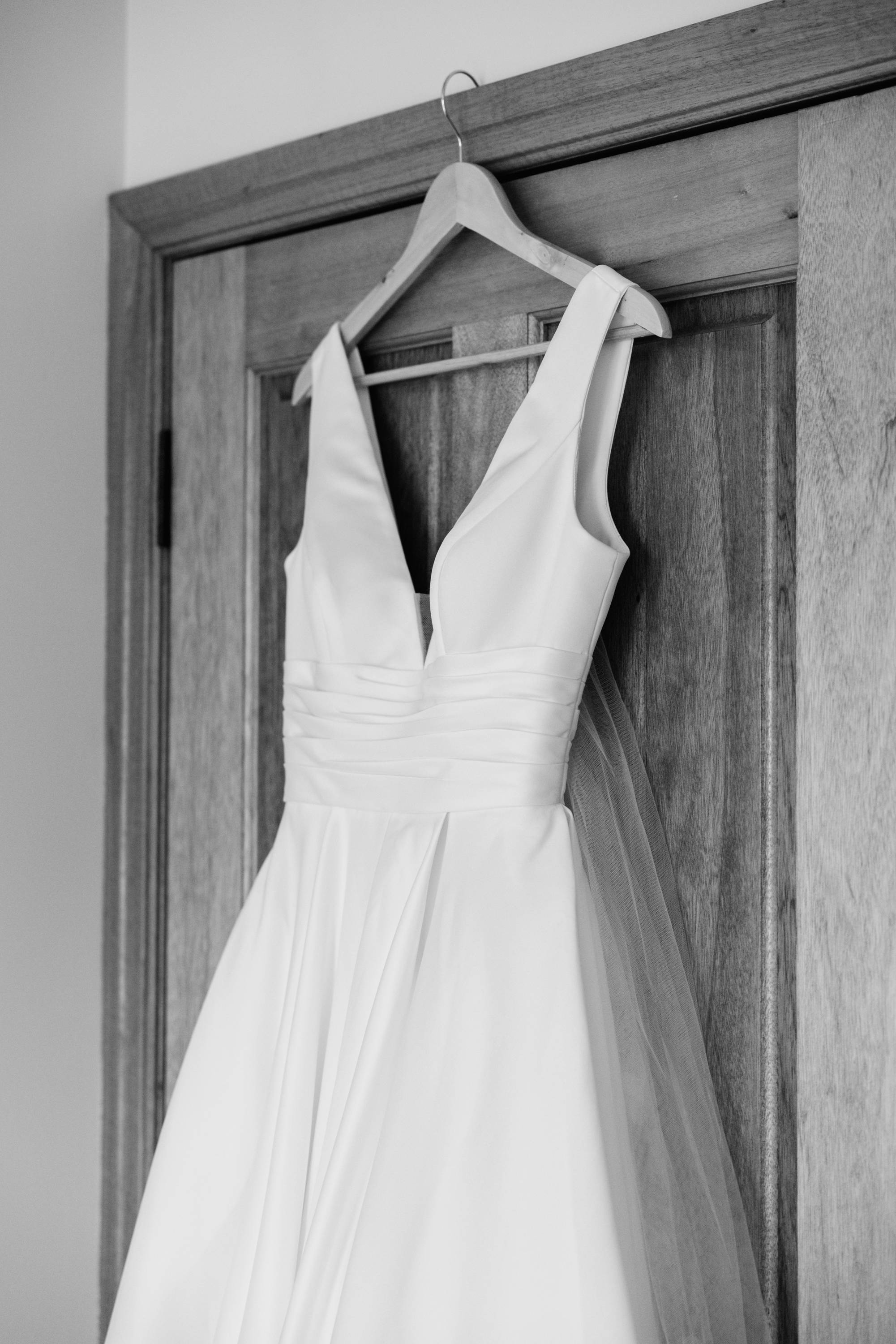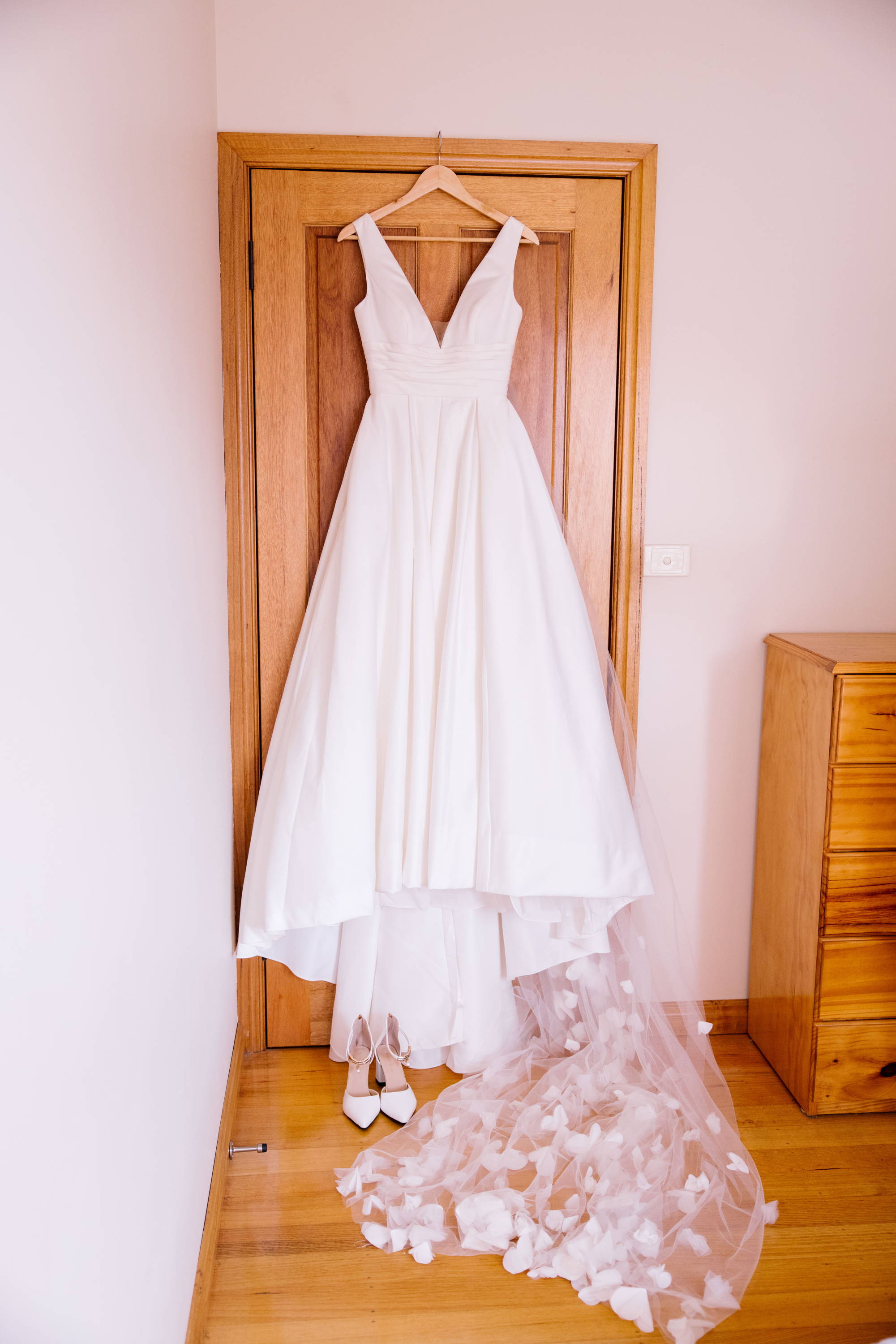 ---
The whole team here at Oleg Cassini wish Elyse & Lachlan the best of luck in their beautiful union. Thank you for choosing us to be such a big part of your special day. What a wonderful experience it was working with you.