Real Bride: Elizabeth & Oscar
Whenever we need bridal inspo, or a really stylish post for our Insta, we turn to a particular big day to share with our brides. Full of colour, florals and warmth, this picturesque wedding is forever our go to and a cherished part of OC. So, it's only fair that we introduce the couple behind the photographs to our OC family: Elizabeth and Oscar.
---
---
THE FIRST MEETING:
"It's a long story … Oscar and I actually went to school together but we weren't friends. It wasn't until 10 or so years after we finished school that we actually met and spoke to each other!I was newly single and now living with a close school friend of mine, who knew Oscar, and because our birthday's are only a week apart, we decided to have a masquerade party at our place. A week before the party, while doing the groceries, we ran into Oscar and ended up inviting him to our party. Both my girlfriend and I were pretty sure he wouldn't come and expected he probably thought a masquerade party wasn't very cool, but we were wrong and he turned up with other mutual friends of ours, mask in hand...
It was a great night and he was one of the last to leave. We spent most of the night by each others side and at one point I went inside to get a drink and when I came back, Oscar and my parents were having a good old chat and their arms around his shoulders. I was immediately impressed.
The next day we had lunch together and from then on we chatted every day and hung out several times a week. I soon realised we were becoming the best of friends. We could talk about absolutely anything and be 100 percent ourselves when we were together – something I hadn't been able to do in such a long time. Anyway, eventually feelings turned from just friends to something more and we fell ridiculously in love and finally got married 7 years later."
THE PROPOSAL:
"The first two attempts didn't work out as planned. The first time he wanted to do it in Byron Bay but we were apparently too hungover to drive and the second time we had dinner plans but I had to work late. So it was third time lucky. It was not planned at all and very last minute. We were heading to Melbourne for the weekend and he decided he'd take the ring with him as a 'just in case'. Anyway, plane gets delayed due to rain, we land in Melbourne close to midnight so our plan of seeing the Christmas lights was canned but we checked-in and decided to go for a walk anyway. He apparently had the ring with him while we were walking the streets but decided to wait because it was raining hard and we were both tired and hungry. The next morning, as I was waking up, I looked over and noticed Oscar wasn't in the bed and then realised he was actually down on one knee by my side of the bed. I don't remember much after that but I do remember there was lots crying and hugging we forgot to put the ring on!"
---
---
THE GOWN:
"I bought the gown online which was very risky for me and not something I would usually do (because I'm usually in between sizes and almost always need to try things on). I remember contacting the OC team and asking about this particular dress and the sizing and I received a quick and really friendly response. It really wasn't what I imagined wearing. I honestly thought I was going to get married in something lace and definitely not beaded. I actually bought my OC dress straight of the website around 9 months before the wedding but kept it in the box and continued to try on dresses and search for different styles online. Four weeks out from the wedding, I was still unsure so I decided to try the dress on again but this time when I looked in the mirror and knew it was the one."
BRIDAL ADVICE:
"Have an open mind and stick to your budget. You'll be surprised what you can find if you take your time."
THE BRIDAL FEELING:
"It's hard to describe the feeling – definitely very special and because the dress fit me really well but I also felt confident and overall really happy I decided to go with this style."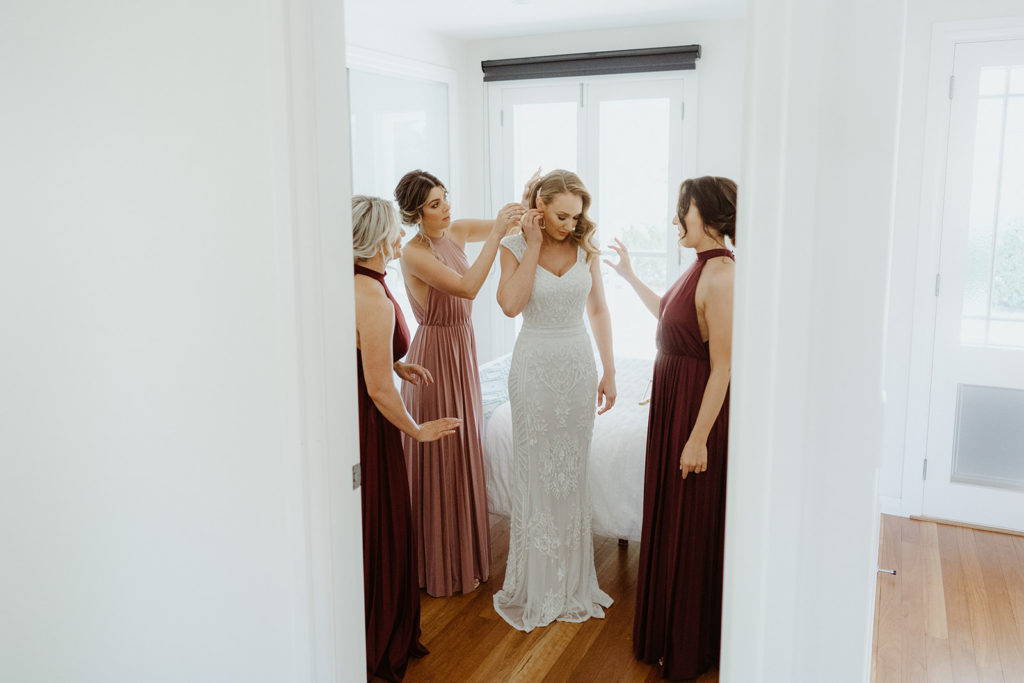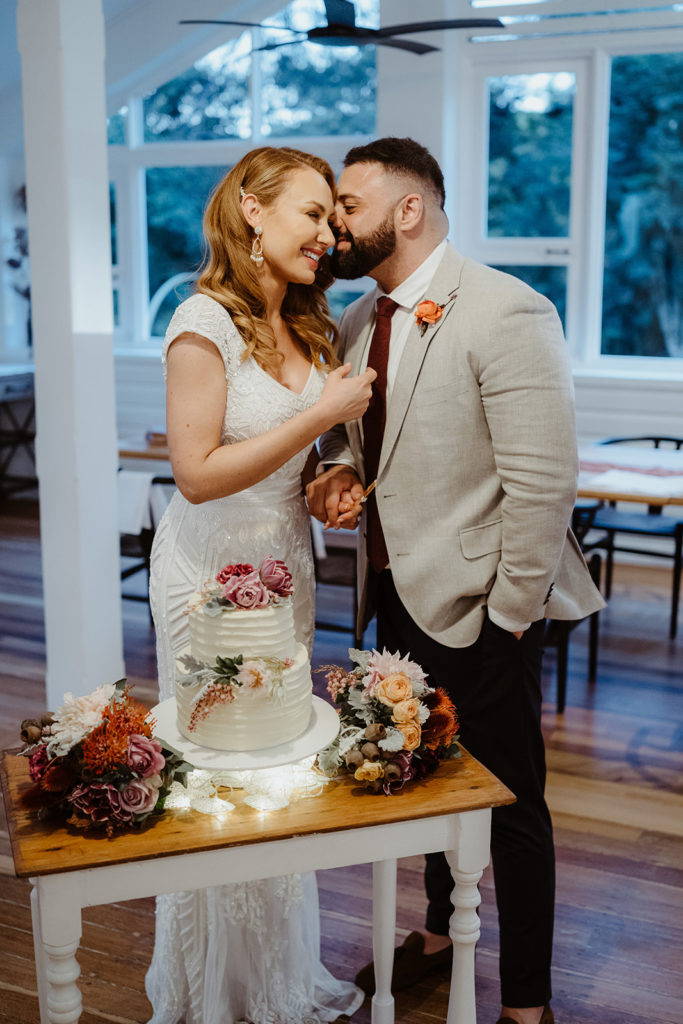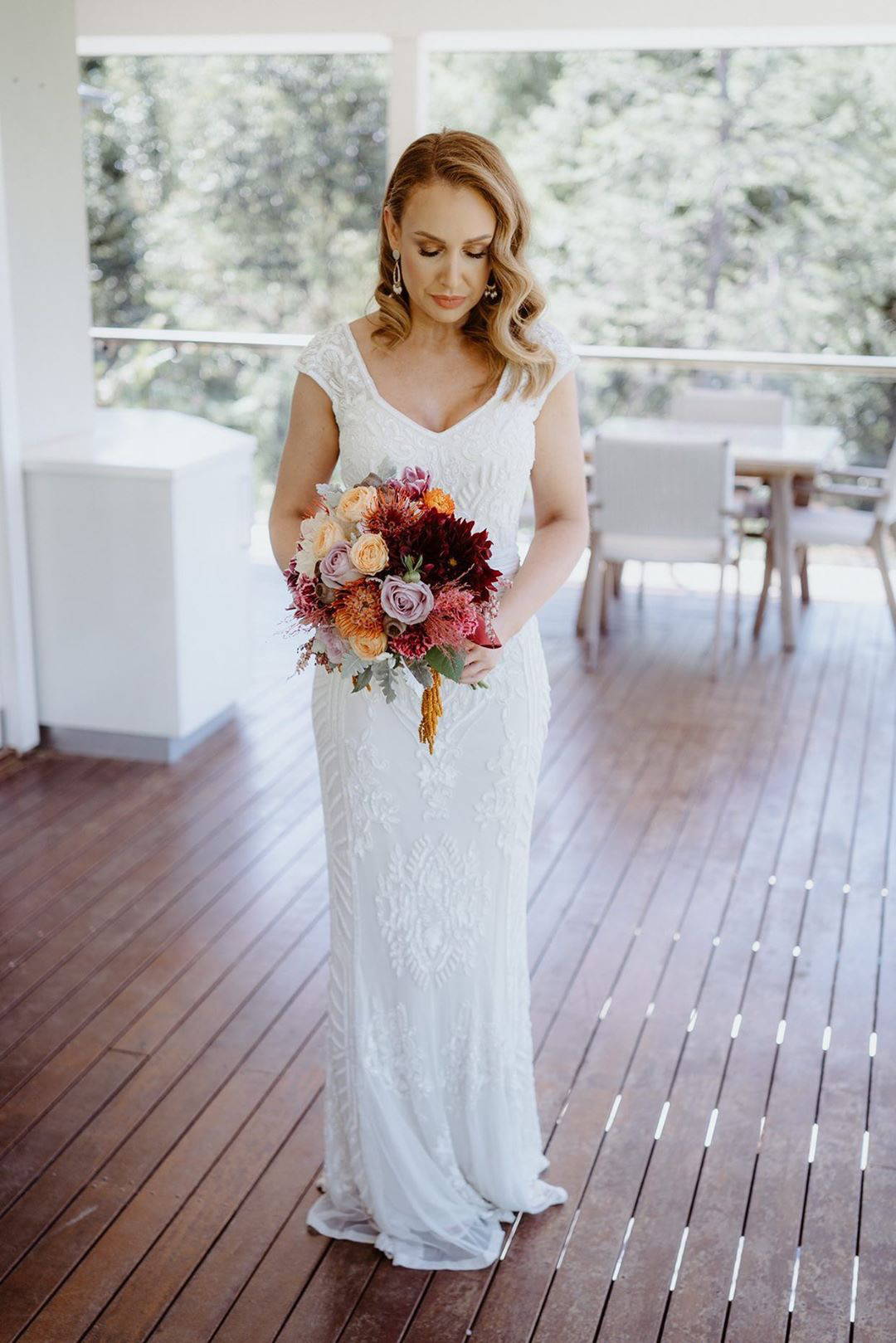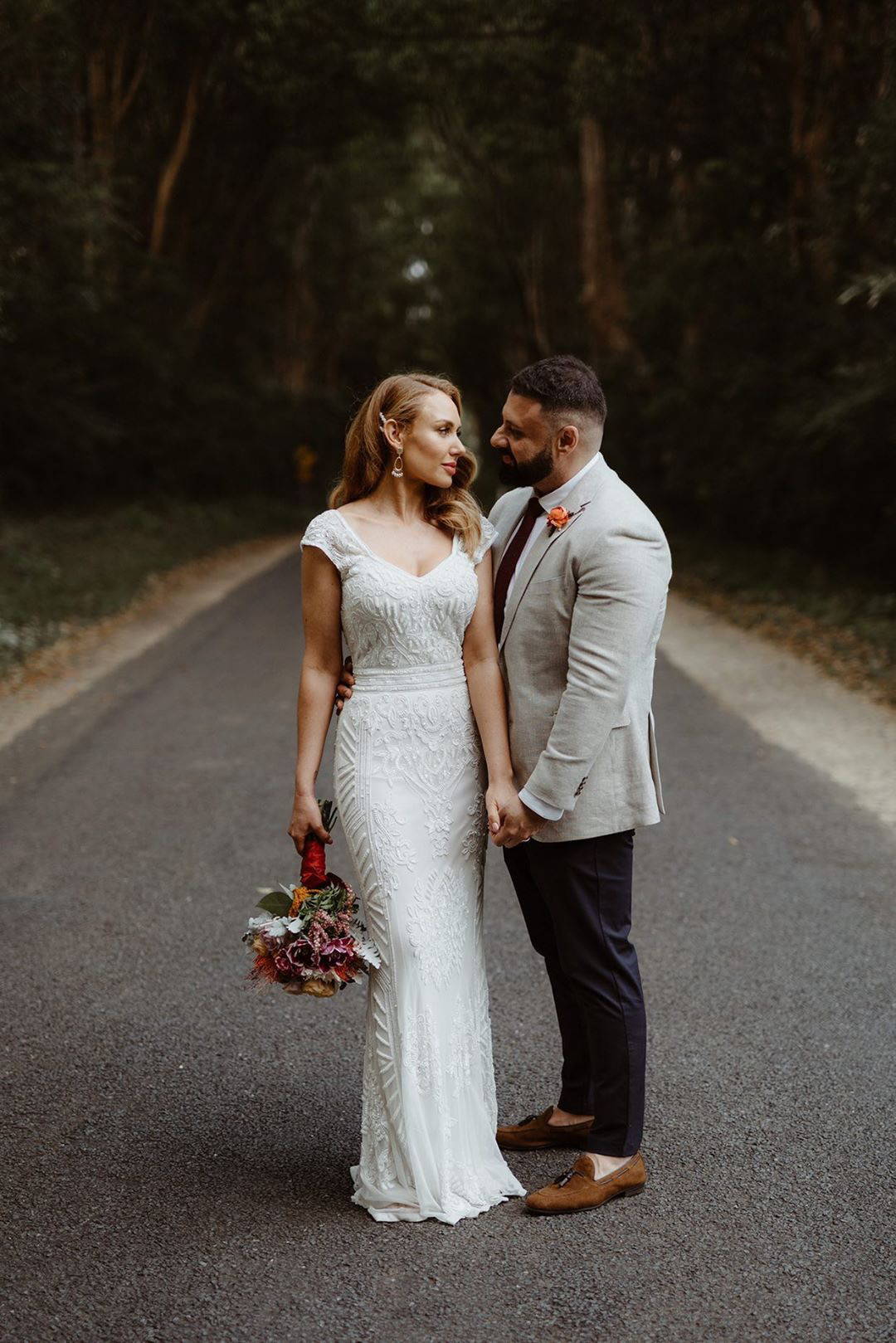 ---
---
THE LOCATION:
"Our location was just outside of Byron Bay in Possum Creek on a property called Friday Hut Road Estate. It wasn't our first choice though. Sadly, a few unfortunate issues with the first venue forced us to cancel a few months out from the wedding but Oscar and I are big believers in 'everything happens for a reason', and so as fate would have it, one day I got a call from the Friday Hut team saying they had heard of our news and explained that they have a venue with all the things we were looking for and which turned out to be absolutely perfect.
It was like a dream - the property had a beautiful big house on it and all the wedding party stayed together there the night before and night of the wedding and it also had a gorgeous little restaurant only a few meters from the house. We actually had it on a Thursday (a bit special because it worked out to be the same day as our anniversary). The ceremony was held on the grass in front of the restaurant then canapés and cocktails on the front lawn of the house followed by a late lunch, first dance and cake cutting in the restaurant."
HAIR AND MAKE UP:
"I wore my hair in a way that made me feel like me – nothing over the top or really 'different'. I wanted to feel comfortable and luckily it turned out to be very appropriate style to suit the dress. I kept my makeup natural because I don't wear much normally but jewellery was something I spent a long time searching for because the dress has a lot of detail, anything I wore needed to be subtle but still work."
MARRIED LIFE SO FAR:
"Married life is so good. It has been a strange first year together (with COVID etc) but there is no one I'd rather be stuck in quarantine with. I knew he was the one when I could actually picture us growing old together and I felt like I was the luckiest girl because he loved me."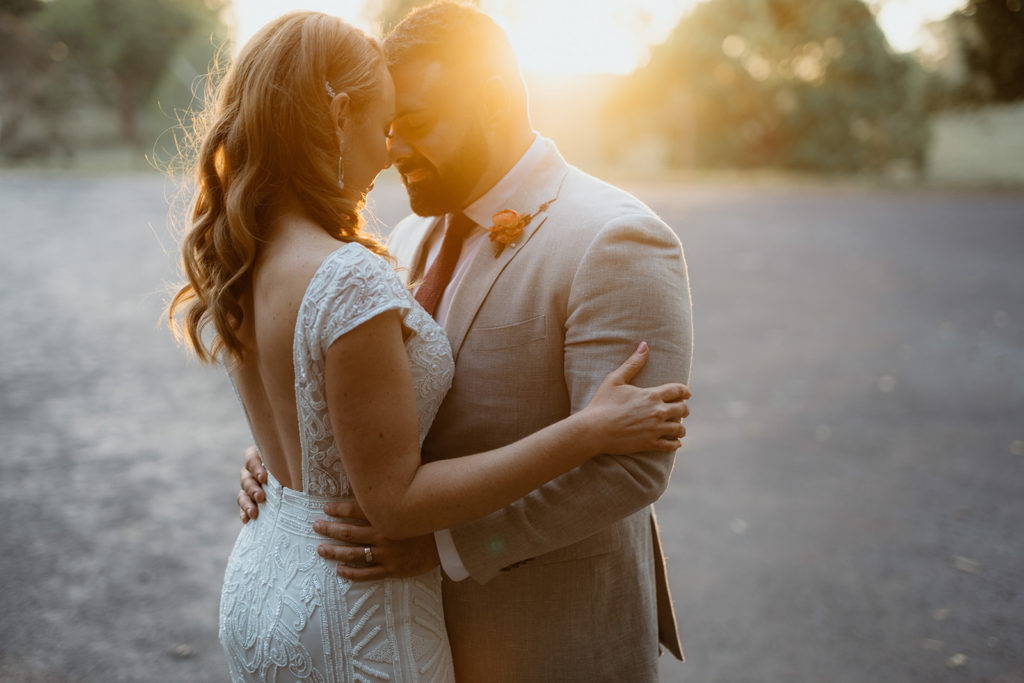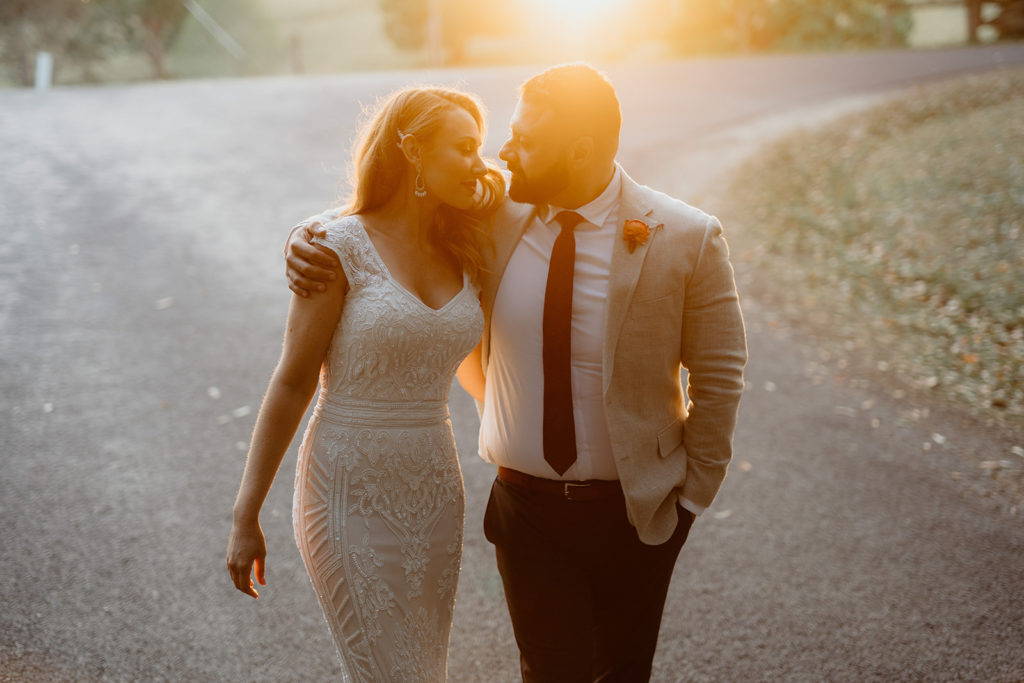 Our team wishes Elizabeth and Oscar the best of luck, love and happiness on their journey together.
In honour of our beautiful bride Elizabeth, we have since named her wedding gown after her as it perfectly encapsulates her beauty. We are proud to introduce the Elizabeth Gown.
To try the Elizabeth gown on, book an appointment today by clicking here! If you are an amazing interstate bride, or can't make it to one of our showrooms, book an appointment to meet with an OC stylist virtually and begin your bridal journey with us.