How To Purchase A Wedding Dress Online
So, you've found the gown of your dreams but don't know what the next step is. Don't worry, we will walk you through it! Our website is designed to make ordering as simple and stress free as possible. Follow our easy guide to purchasing online and be one step closer to bridal bliss!

Browse through our fabulous collections until you find 'the one', then celebrate! The hardest part is over; and we can't wait to make your gorgeous gown for you. Lace or sparkle, Mikado or tulle, fitted or flare, we know you are going to be a beautiful bride. Pop a bottle of champagne and cheers to your success!

Now the hard part is done, it's time to pick a size! We provide an easy, straight forward size guide on our website so everyone can find the best size. Our gowns are ordered in US sizing, so be sure to find your US size on the chart. To find your corresponding size, measure your bust, waist and hips in inches.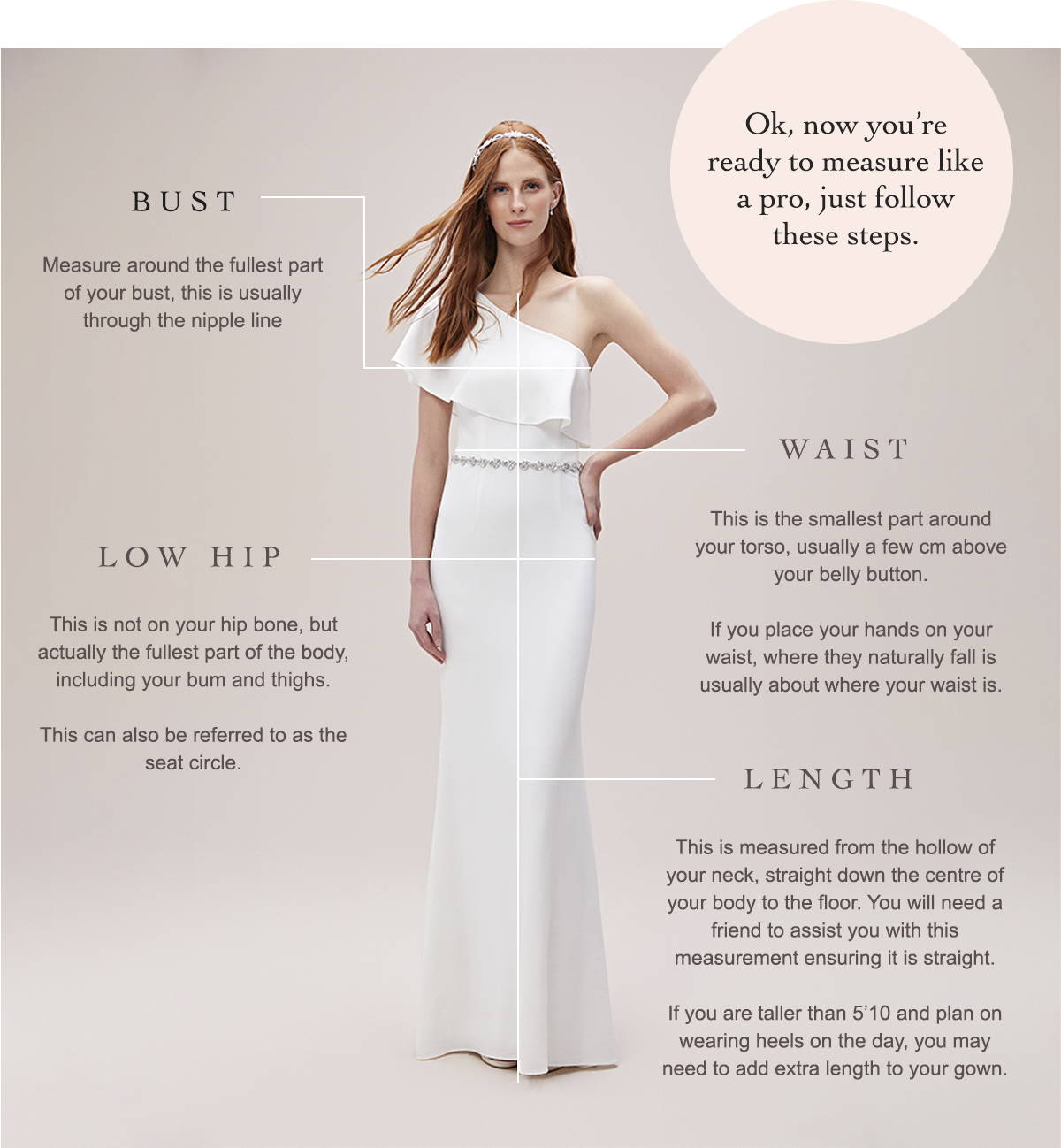 OC Tip:
When in doubt, go bigger! You can always take your dress in so easily; it is harder to let a gown out.
Don't pull too tight with measurements, give yourself a little breathing room for eating, drinking and partying on the big day!
Use a mirror or a friend to check if your tape measure is straight!
Measurements should be snug with the body, comfortable and how you would like your dress to fit!
Watch some instructional videos, they actually help!
If you need any help, contact a stylist on our website – we're always happy to assist!

Whether it's accessories, veils, bridesmaid dresses, a look for the mother of the bride, or evening gowns; we've got you! Browse our website to complete your bridal party look. With a wide range of colours, sizing and styles, there is a dress for everyone at Oleg Cassini. Find your dream veil, or the most perfect pair of earrings to match your gown… Ask a stylist for some help to complete your bridal masterpiece!
---

Woohoo! Congratulations, you are one step closer to bringing your big day to life! We are so happy to have you in our OC family and cannot wait for all those beautiful photographs. Our dresses display lead times for expected delivery times, check that there is time for your gown to arrive. If needed, you can fill out a rush order form on our website. Make sure you order your US size and go to check out. Your gown will come to your home, so put the most convenient address for you. All our gowns will need to be signed for, so sleep easy knowing it won't be left on your doorstep.

How exciting? Your gown has arrived! We hope your bridal moment is as magical as you've been imagining! Put that dress on and transform into the beautiful bride we all knew you were. Make this a special day, invite your friends over and have a little reveal. Help yourself envision the day by emulating your hair and makeup on the big day! Nude undergarments will also help get the full effect of your dress. We recommend trying your dress as soon as possible, just in case there is anything we need to help with. Contact us immediately if there is anything we should know; all our return policies are available on the website.
Have a glass of champagne (or the bottle) and celebrate!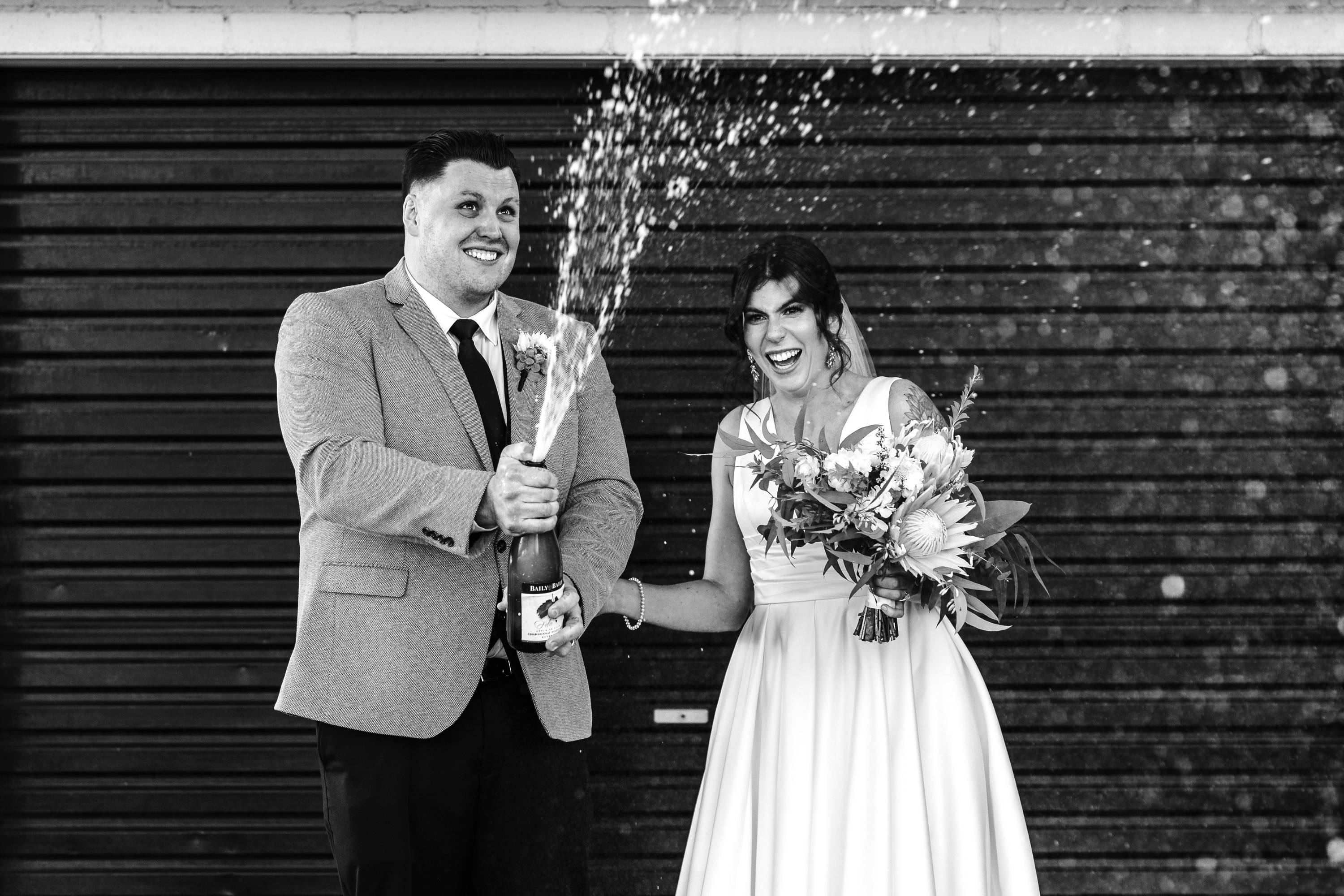 We love seeing our beautiful OC brides on their special days. Send us those photos; more is more! Tag us in those posts and let our stylists follow your bridal journey. This is one of our favourite parts. We would love to post you to our social media and let our lovely OC followers get inspired!